Kormoran 1150
A comfortable houseboat with rear staircase
A modern boat with a touch of luxury, traditional midship saloon and steering position, second steering position on the large sun deck, bow thruster, large swim platform with boarding ladder and outdoor shower (hot and cold water), staircase from the deck to bathing platform, LED - lit stairs, shore power, hot water heater.

Forward cabin, saloon and stern cabin can be combined.

If the Kormoran 1150 doesn't meet all your criteria talk to us about your ideas so we can discuss how they can be incorporated.
Boat data

length: 11.44 m
width: 3,90 m
draft: 0.75m
headroom: 1.98 m
cabins: 3
berths : 6 + 2
CE norm: C / D

















general & technical details
general data
Headroom 2.69 m
Trailer Weight 15 t
Max . Weight 17 t
Color selectable (not for sale Charter )
Railing in stainless steel
Material Stahlverdränger in Knickspantbauweise
Speed ​​13-15 km / h
Cruising speed 9-10 km / h
tank
fuel tank 530 l
water tank 1,000 l
holding tank 1.400 l
water heater 170 l , isolated
sanitary
2 heads with electric toilets, sink, shower
Hot water via engine or heating
Webasto hot water heater 5,2 kW
Fluent hot and cold water
Wastewater collection system with intermediate tank in the bilge
2 Large electric toilets
equipment
Wooden ceiling white glazed damp proof ceiling panels
PVC floor covering
Walls / decorative white coating with mild Holzrahmung mahogany Sapele ( wood breeding )
Rudder angle indicator on both control stations
Depth sounder on both control stations
3 - flame built-in cooker ( gas )
Built-in oven 1600 W ( gas )
Refrigerator 130 l Electric
1 gas bottle 11 kg
Radiators in each cabin and sanitary
Salon with underfloor heating
double glazing
Bugle , wipers
Radio / modern audio system
modern audio system with MP3 player , audio CD , Connection for laptop , iPod or iPhone and SD card
Connection for mobile charger
engine
Solé Diesel Mini-74, 4 cylinder, 47 kW (63,9 PS)
Hydraulic bow thruster about 5 kW
Control stations 2
Hydraulic steering
electric
12 V electrical system with undervoltage lockout
Alternator 12 V / 110 A
2 batteries 180 Ah for onboard power supply
Starter battery 143 Ah for onboard power supply
Shore power 230V
230 V sockets ( on shore power and 2,000 / 4,000 W DC converter )
New construction gross 344.505, - € (net 289.500 € )
charge Bug variant 1150 B2 or B3 1150 | + 1.803,- €
charge Salon variant 1150 S2 or S3 1150 | + 1.761,- €
charge Heck version 1150 H2 or H1 1150 | + 2.237,20,- €

steel construction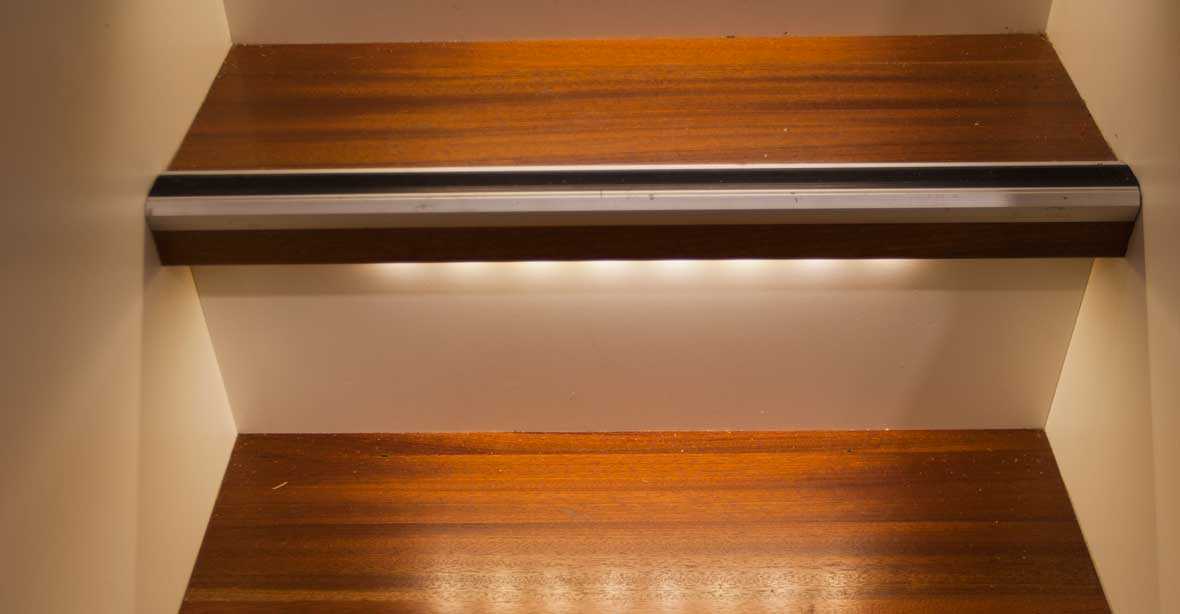 economical by LED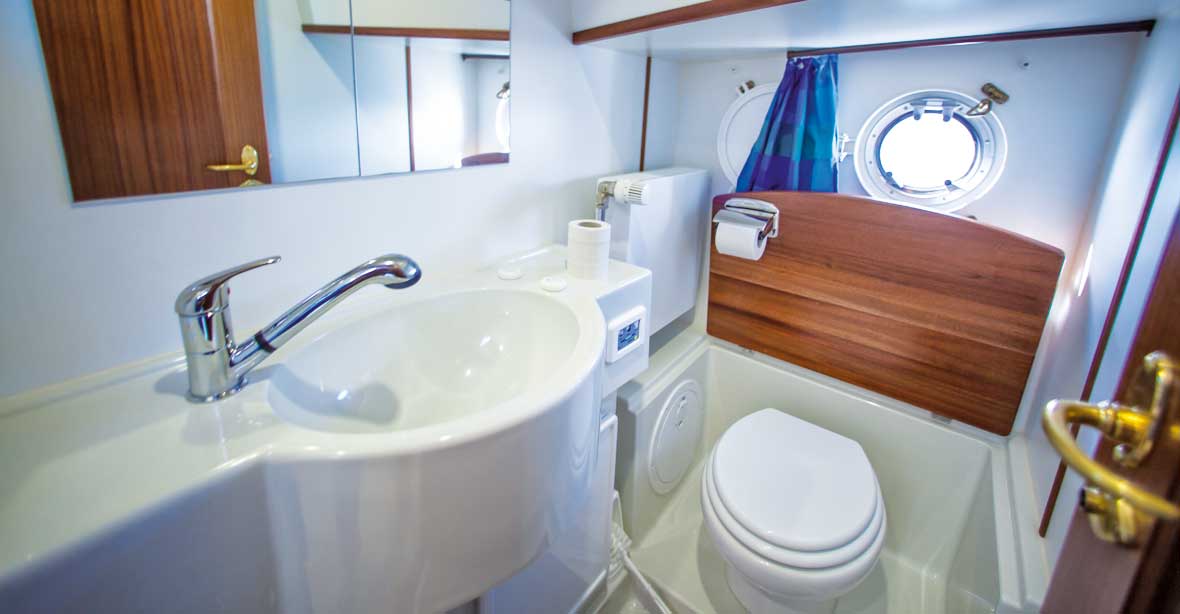 modern bathroom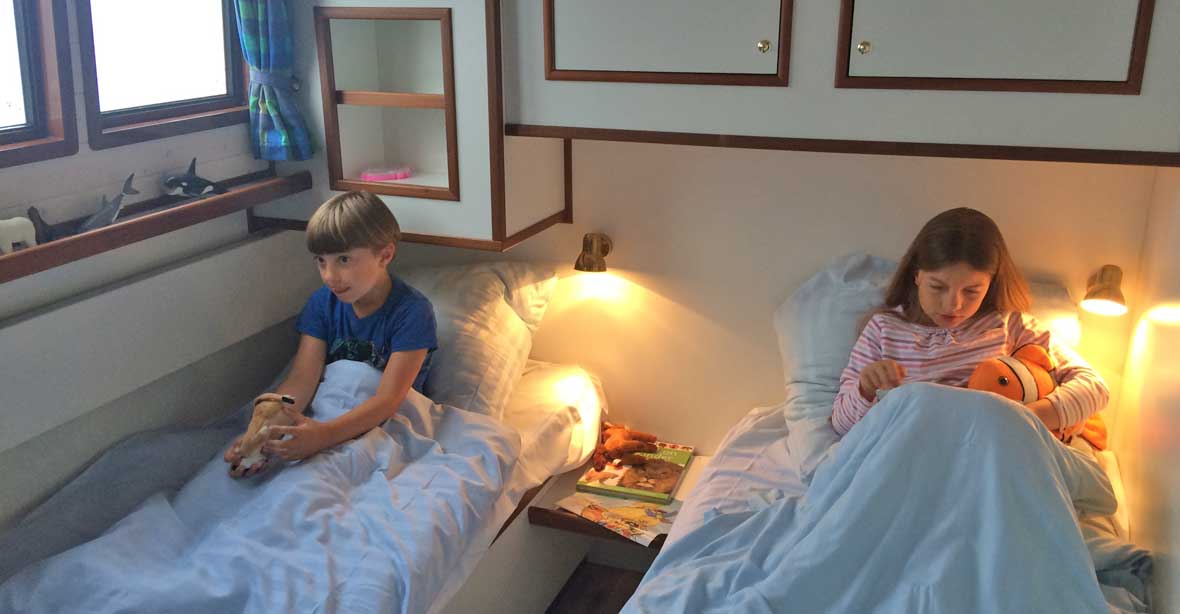 Example stern cabin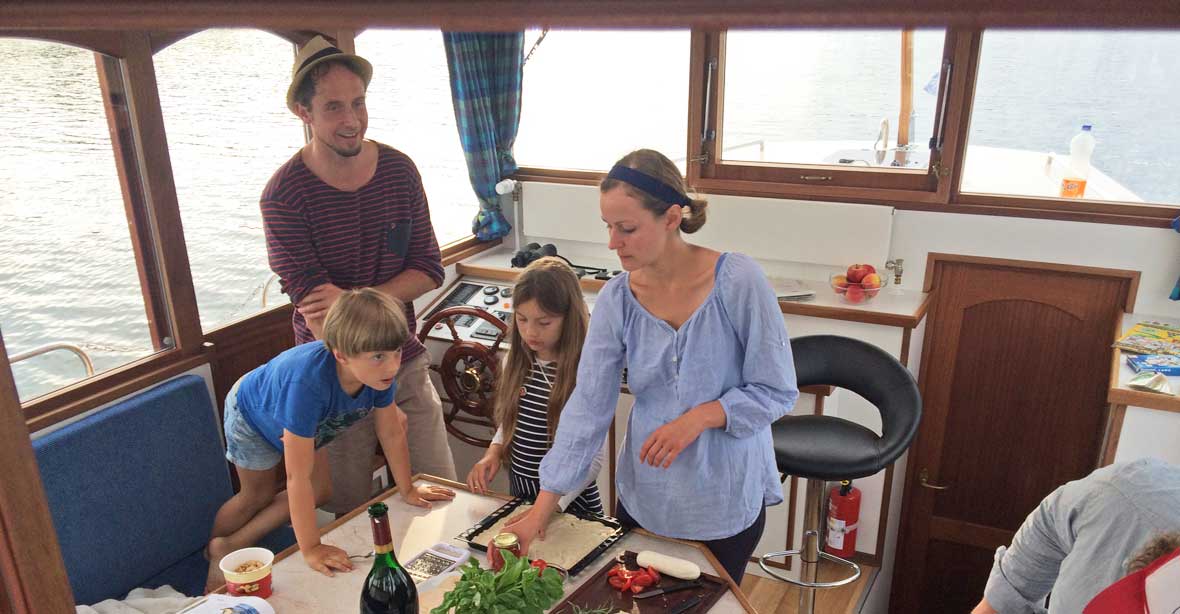 a lot of space in the salon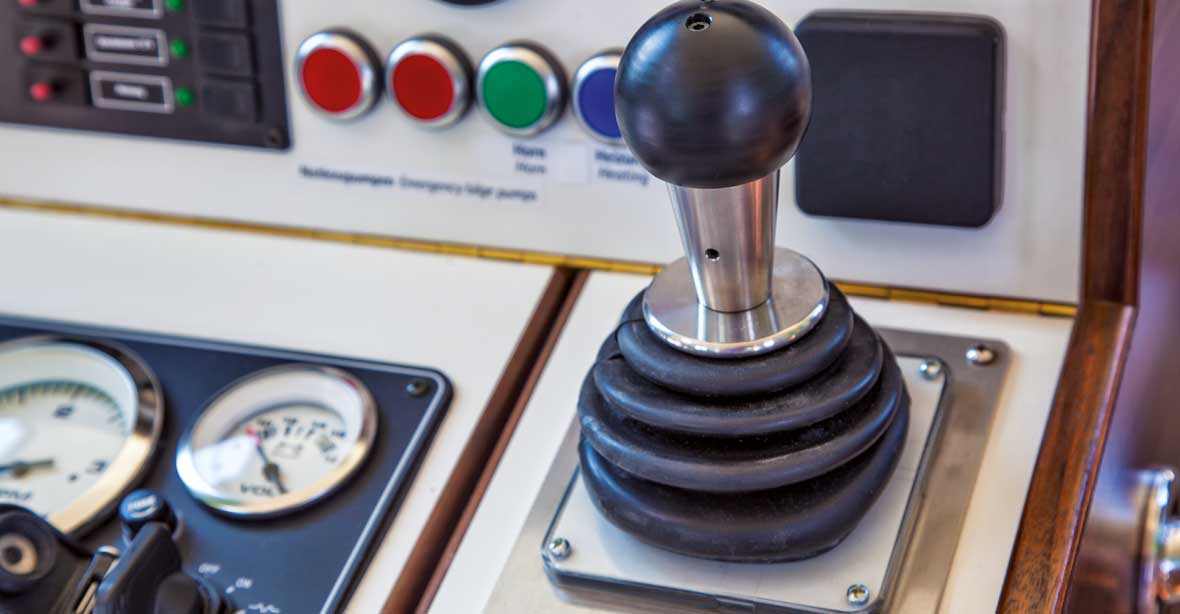 modern joystick control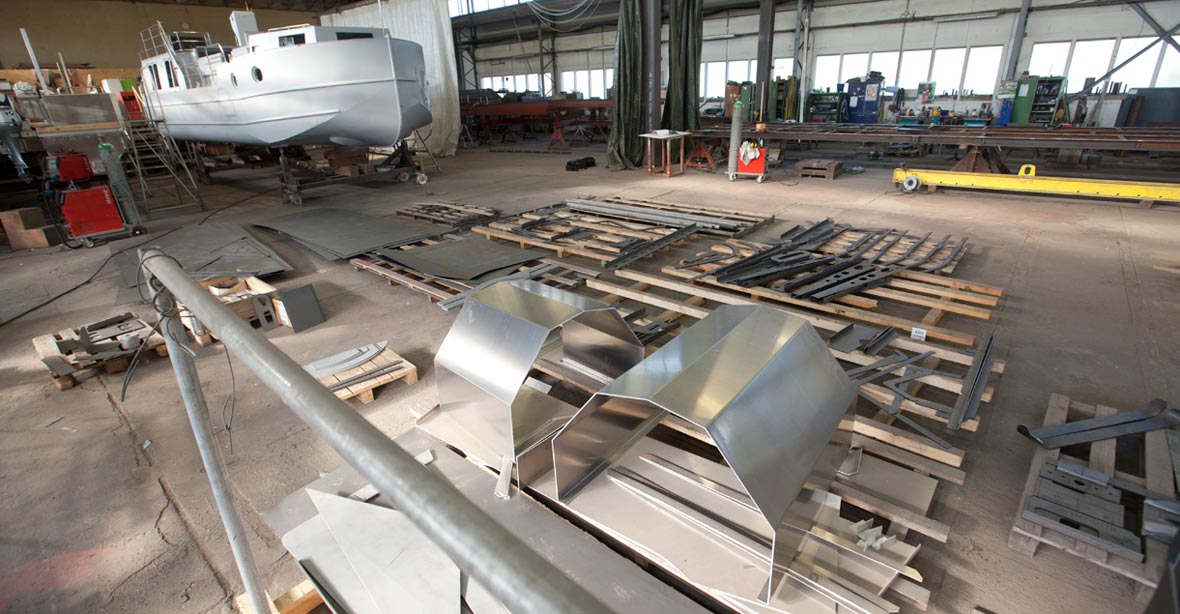 Kormoran in the production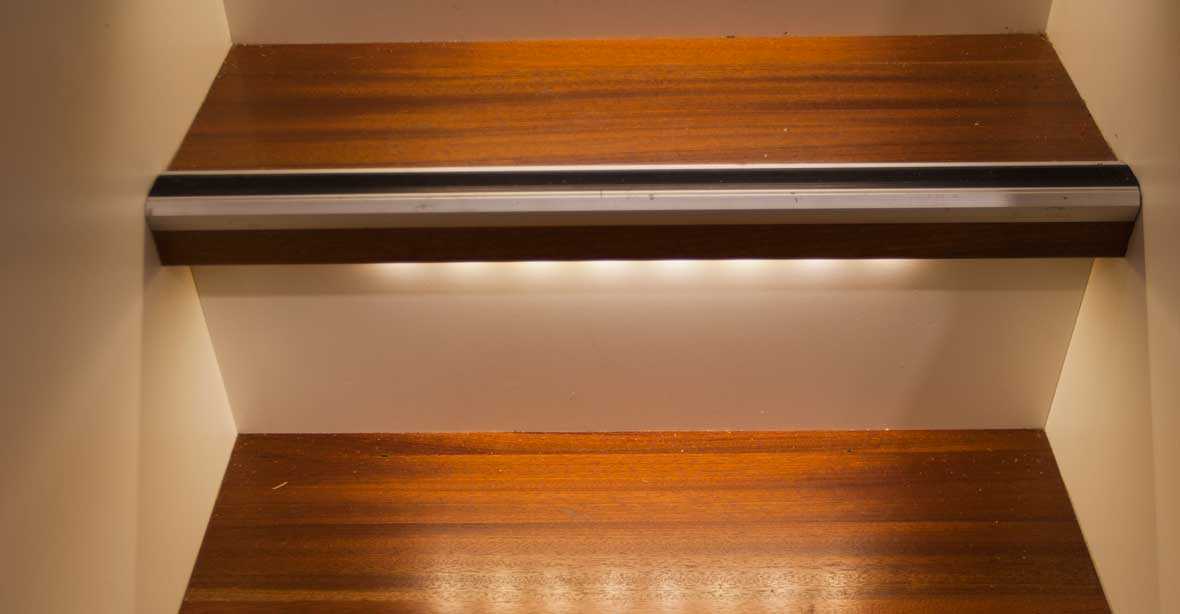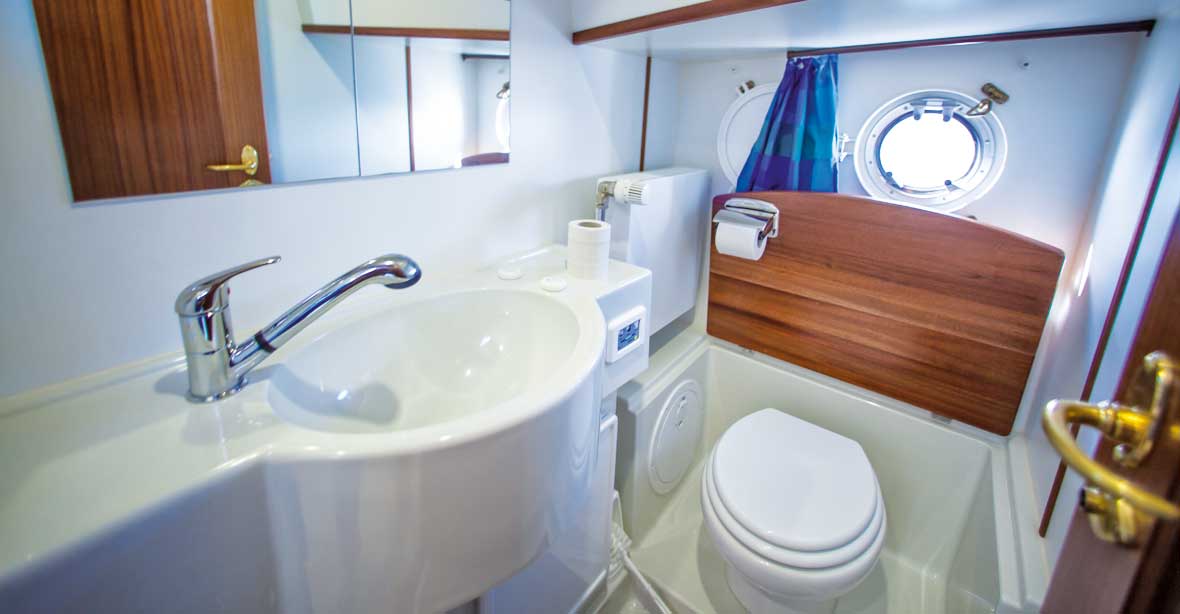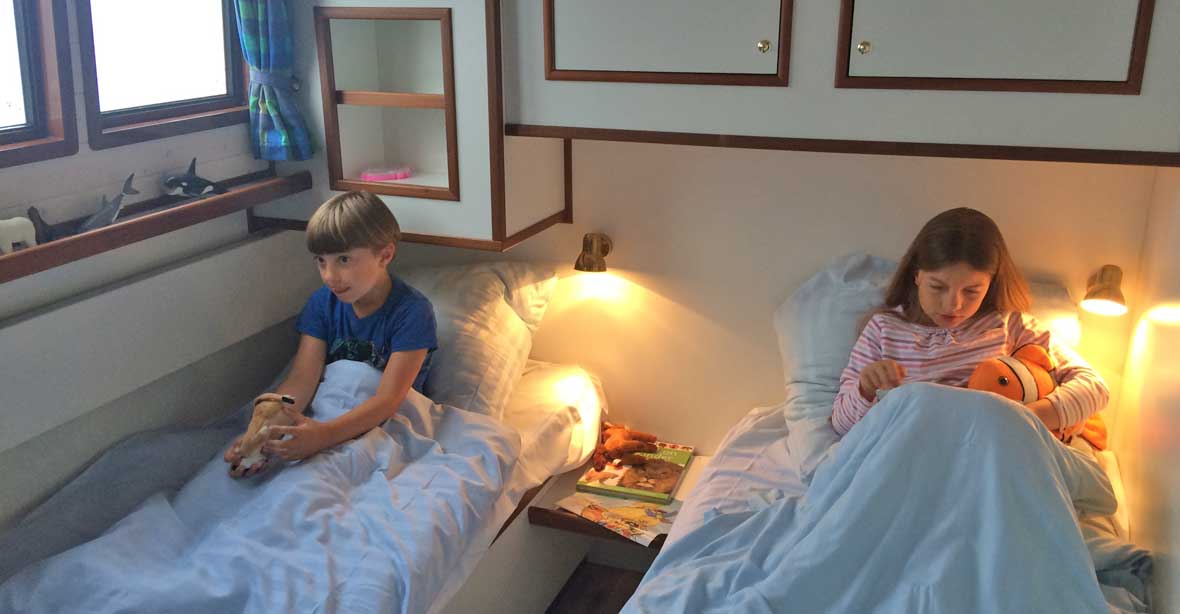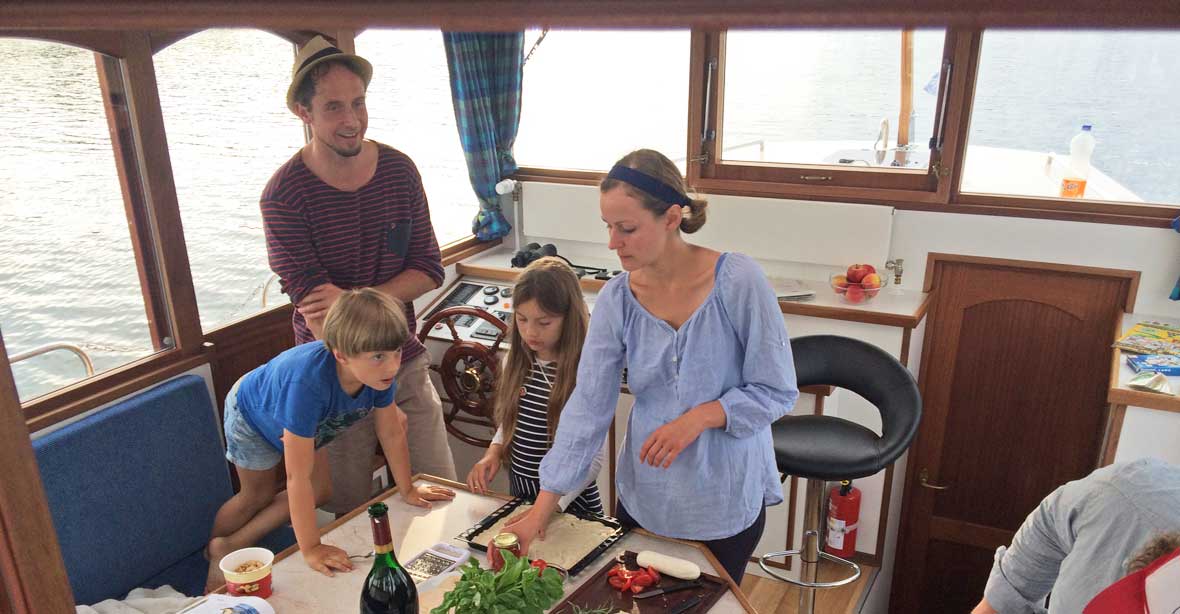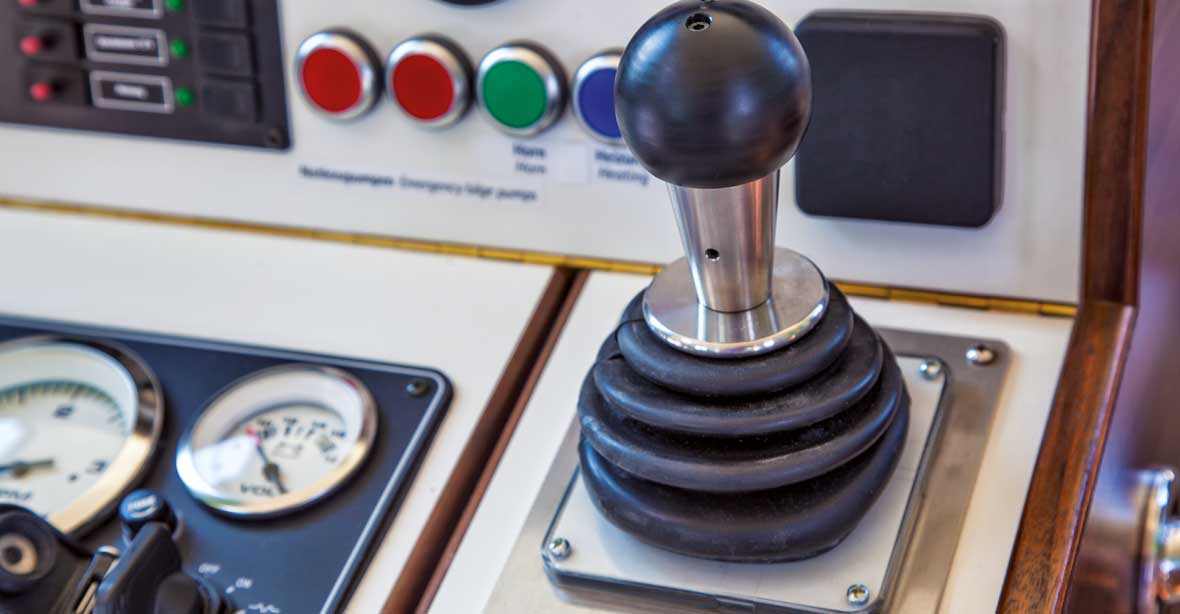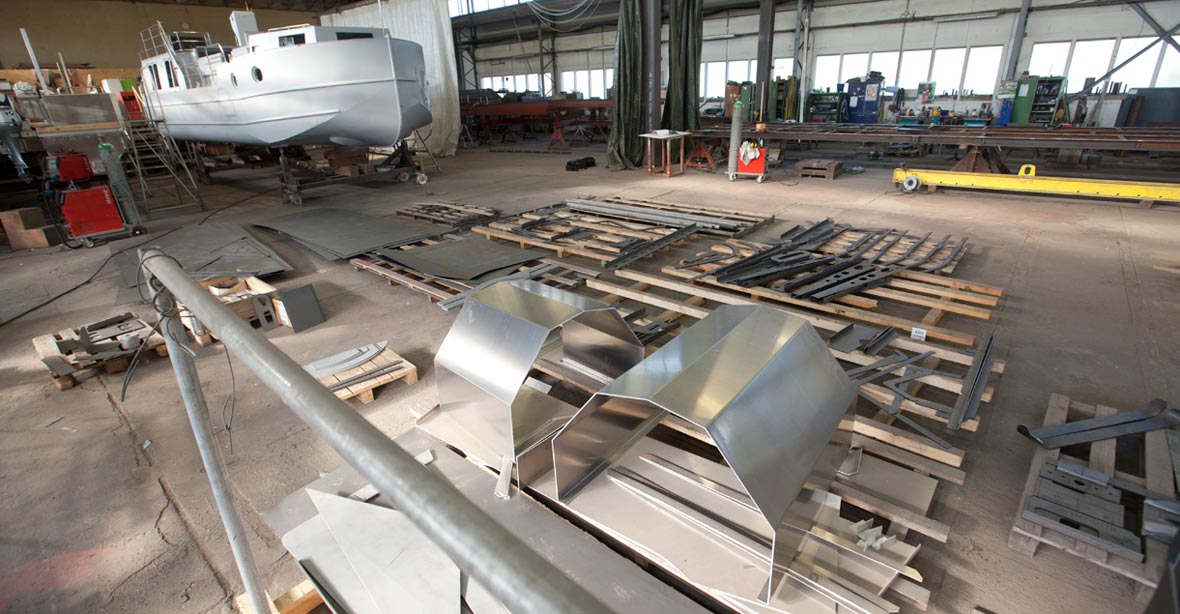 Technical details
| | |
| --- | --- |
| Building material | Stahlverdränger in Knickspantbauweise |
| Dimension | |
| Length x Width x Depth | 11.44 m x 3.90 m x 0.75 m |
| Headroom | 2,69 m |
| Mass | |
| Trailer weight | 15 t |
| Max. Weight | 17 t |
| Outside | |
| Color selectable (not for sale charter) | x |
| Railing in stainless steel | x |
| Interior decoration | |
| Cabins | 2 |
| Berths | 6 fixed / 2 Additional Services |
| Heads with eletrischem toilet, sink, shower | 2 |
| Wood Ceiling | white glazed damp proof ceiling panels |
| Flooring | PVC |
| Walls / Decor | coated white with a slight Holzrahmung mahogany Sapele (wood breeding) |
| Drive | |
| motor | Solé Diesel Mini-74, 4 cylinder, 47 kW (63,9 PS) |
| Maximum | 13-15 km / h |
| Cruising | 9-10 km / h |
| Bow | hydraulically about 5 kW |
| Control | |
| Control stations | 2 |
| Hydraulic steering | x |
| Rudder angle indicator on both control stations | x |
| Depth sounder on both control stations | x |
| Tank system | |
| Fuel tank | 530 l |
| Water tank | 1,000 l |
| Holding tank | 1,400 l |
| Pantry | |
| 3-flame built-in cooker (gas) | x |
| Built-in oven 1600 W (gas) | x |
| Refrigerator 130 l | Electric |
| 1 gas bottle 11 kg | x |
| Heating/ hot water | |
| Radiators in each cabin and sanitary | x living room with underfloor heating |
| Glazing | x |
| Water heater (170 l, isolated) | x |
| Hot water | on motor or heating |
| Webasto hot water heating | 5,2 kw |
| Hot water/ sewage | |
| Fluent hot and cold water | x |
| Wastewater collection system with intermediate tank in the bilge | x |
| Large bathrooms | 2 electric toilets |
| Rear / outside shower | x |
| Electrical system and instruments | |
| 12 V electrical system with undervoltage lockout | x |
| Alternator | 12 V / 110 A |
| Batteries 180 Ah for onboard power supply | 2 |
| Starter battery 143 Ah for onboard power supply | x |
| Shore supply 230 V | x |
| 230 V sockets (on shore power and 2,000 / 4,000 W DC converter) | x |
| Bugle, wipers | x |
| Radio / modern audio system | x |