Febomobil 990
Barrier free living
General description of the basic version
Floating and cruising cottage, ideal for up to two couples or small families, bathroom handicapped accessible with shower and toilet, hot/cold running water, kitchenette accessible by wheelchair with stove and oven, refrigerator and sink, connection for shore power (230 volt shore power), electrical outlets, heating in all rooms, porch, railing bow terrace, device for outboard gasoline or electric - maximum 23 kW (31.27 hp).
Boat data
Length: 9.90 m
Width: 3.35 m (also larger widths are possible such as 4,20 m)
Draft: 0.50 m
Headroom: 2.30 m in all areas
Cabins: 1
Berths : 3 + 2 ( Plus version )
CE norm: C / D













General and technical details
Basic Version
General data
Clearance height 3,55m with railing stainless steel polished
trailer weight 3,0 t
max. weight 4,9 t
color freely selectable (not for purchase charter)
pontoon aluminum, 2 hulls
maximum speed 12 km/h
cruising speed 10 km/h
Equipment
Ceiling plastic
Flooring PVC
Walls plastic, sandwich
Deck Tread web flooring wood (Bankirai)
3-burner built-in stove (gas)
Built-in oven (gas)
Refrigerator
2 gas bottles 11 Kg
Ladder to the roof polished stainless steel
Railing roof and aft polished stainless steel
continuous pipe to hold
Engine
Outboard Honda 11,03 kW (15 hp)
1 driving position in front
Hydraulic control
Plus Version
Tank
Fuel tank 60 l
Water tank 350 l
Dirty water tank* 400 l
*Do you know that there are regulations for ship toilets? Yes, you read correctly. Since 2008 all built boats must be equipped with a black water tank. All materials coming out of the toilet belong in this tank. But in the boat area there are other polluted waters, the so-called gray water. This grouping includes water from the sinks, which are usually contaminated with oil and/or food residues. In our boats, the gray water also goes into the collection tank and can be disposed of in an environmentally friendly manner.
Electric
12 V on-board power supply with low-voltage cutout
2 AGM batteries 180 Ah AGM
Starter battery 1x70 Ah
230 V shore power
230 V sockets shore connection
Solar system 200 W
Signal horn
Radio / modern audio system
Garmin Striker Plus 4cv: depth sounder, speed indicator (display under boat), display 4,3 inch
Sanitary
1 barrier-free bathroom with sink, shower
1 electric WC
shower seat with 2 handholds
hot water boiler 10 l
running hot and cold water
Solar thermal
hot air heating in each cabin, HS 2008
All details are without guarantee.
Pictures, Equipment and tecnical data depends on the type of boat
The sale takes place in the boat owner programme.
| | | | |
| --- | --- | --- | --- |
| Year of manufacture | Net price | Gross price (DE) | Name |
| 2016 | 121.000,00 € | 143.990,- €* | Belinda |
| *19% VAT. DE | | | |
Advantages over comparable pontoon boats
The Febomobil differs significantly from other Pontoboats in terms of the quality, because it has more in common with a boat and has more features for driving characeristics, seawothiness, safety and handling. One big advantage of the boat is that you can use the centeral heating all year compared to other pontoboats.
The concept of other Pentoboats is just to build a tiny house that is floating in the water. We are combining both, house and functional boat. For example the febomobil is not too wide so it is more easier to find a mooring. Furthermore the boat is more comfortable to steer and avoids damages.
We at the KUHNLE shipyard gained a lot of new experience during the years and we can provide a huge and comfortable spaciousness for the whole crew on board. We guarantee since 1997 you will have despite limited space a cozy holiday atmosphere and simultaneous enough privacy for every crew member.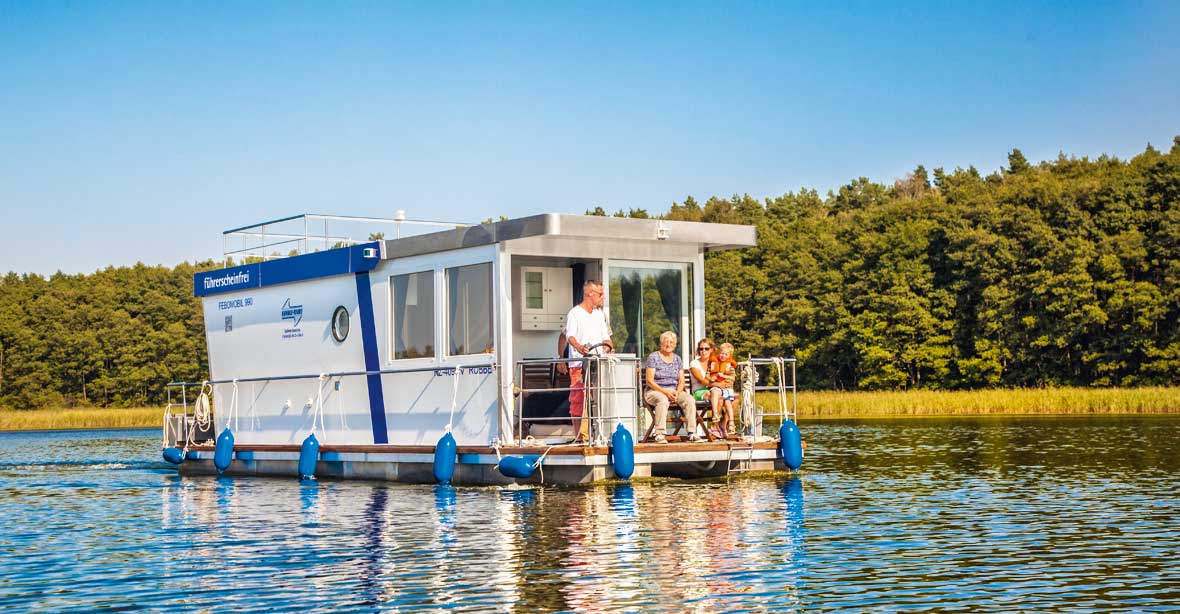 Febomobil 990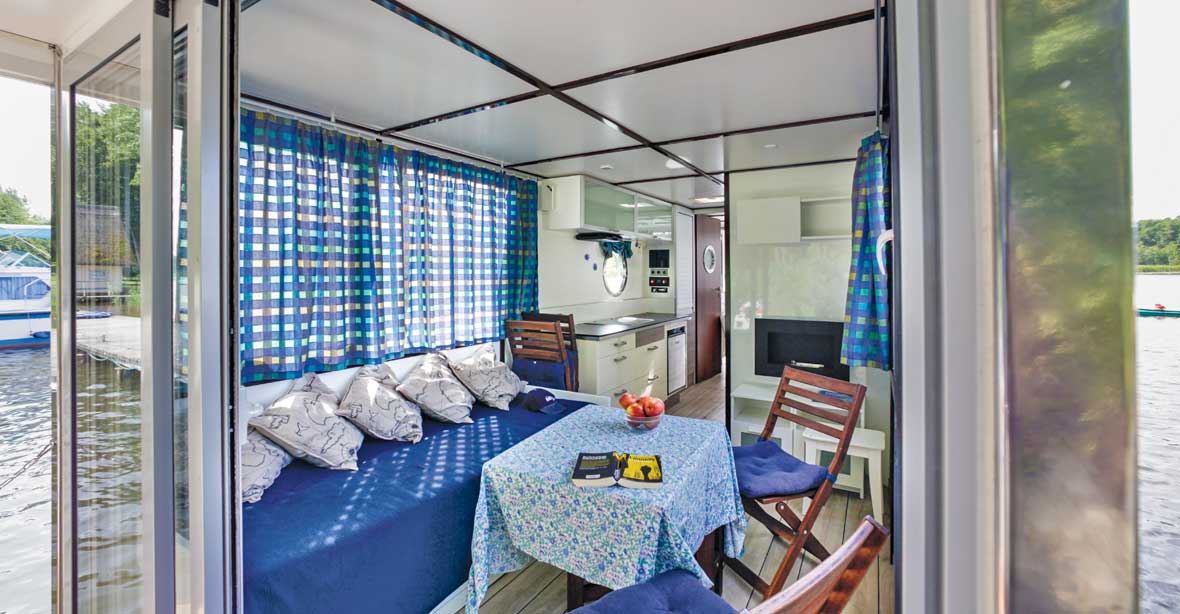 big saloon