Febomobil 990
Easy to board
General description of the basic version
Swimming and driving holiday apartment, perfect for up to 2 couples or a small family, the bathroom is barrier free with a shower and a toilet, running hot and cold water, practical kitchenette with stove and oven, refridgerator and kitchten sink, connectivity for land power (230 V), outlet, centeral heating in every room, veranda, reling bow terrace, outboard gasoline or electric - maximal 23 kW (31,27 PS)
The sale takes place in the boat owner programme.
Boat data
Length: 9.90 m
Width: 3.35 m (also larger widths are possible such as 4,20 m)
Draft: 0.50 m
Headroom: 2.30 m in all areas
Cabins: 1
Berths : 3 + 2 ( Plus version )
CE norm: C / D













General and technical details
Basic Version
General data
Headroom 3.10 m without railings,
3.55 m with railings
Trailer weight 3.0t
Max weight 4.9 t
Color options (new boats only)
Aluminum pontoon
2 hulls
Maximum speed 12 km / h
Cruising speed 10 km / h
Equipment
Plastic ceiling
PVC floor covering
Layered plastic walls
Wooden deck ( Bankirai )
3 flame gas stove and built-in oven
Fridge
2 gas bottles 11 kg
Stainless steel railings
Electric
12 volt electrical system with undervoltage lockout
2 AGM Batteries 140 Ah onboard power supply
Shore power and socket 230 volt
horn
Plus Version
Tank
Fuel tank 60 litres
Water tank 350 litres
Holding tank 400 litres
Electric
12 volt electrical system with undervoltage lockout
2 AGM batteries 140 Ah for onboard power supply
Shore power and socket 230 volt
Solar system 200 watt
horn
Radio / modern audio system
Engine
Honda Outboard 11.03 kW (15 hp)
operator´s stand at the front
Hydraulic control
Sanitary
1 disability access bathroom with washbasin, shower
1 electric WC
Shower seat with 2 grab rails
Hot water boiler 10 litres
Warm and cold running water
Warm air heating in every cabin with Truma gas heating E4000
All details are without guarantee.
Pictures, Equipment and tecnical data depends on the type of boat
| | | |
| --- | --- | --- |
| year of construction | gross-preis (DE)* | name |
| 2016 | 143.990,- € | Belinda (boat owner program only) |
Advantages over comparable pontoon boats
The Febomobil differs significantly from other Pontoboats in terms of the quality, because it has more in common with a boat and has more features for driving characeristics, seawothiness, safety and handling. One big advantage of the boat is that you can use the centeral heating all year compared to other pontoboats.
The concept of other Pentoboats is just to build a tiny house that is floating in the water. We are combining both, house and functional boat. For example the febomobil is not too wide so it is more easier to find a mooring. Furthermore the boat is more comfortable to steer and avoids damages.
We at the KUHNLE shipyard gained a lot of new experience during the years and we can provide a huge and comfortable spaciousness for the whole crew on board. We guarantee since 1997 you will have despite limited space a cozy holiday atmosphere and simultaneous enough privacy for every crew member.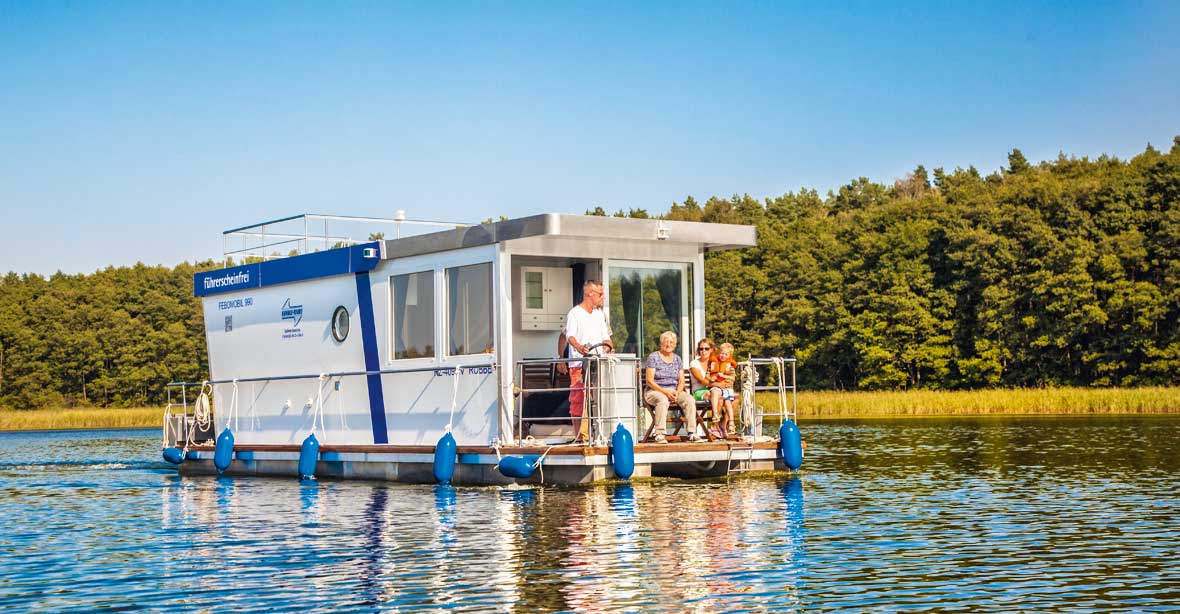 Febomobil 990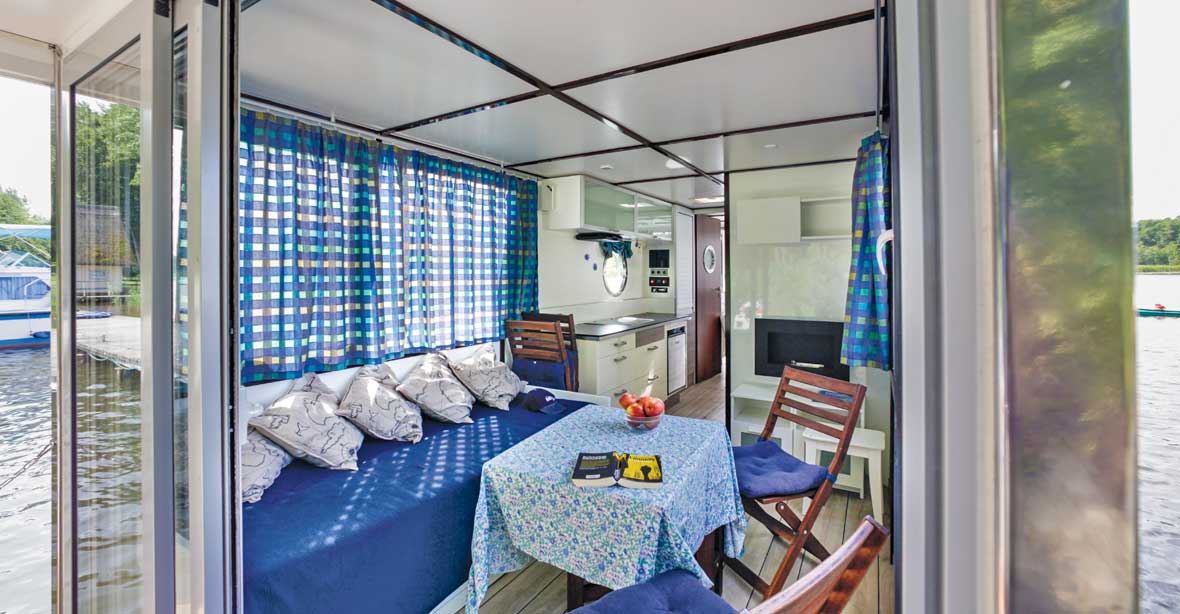 big saloon